Menu, Diet & Nutrition
Links in this section
Meet the Team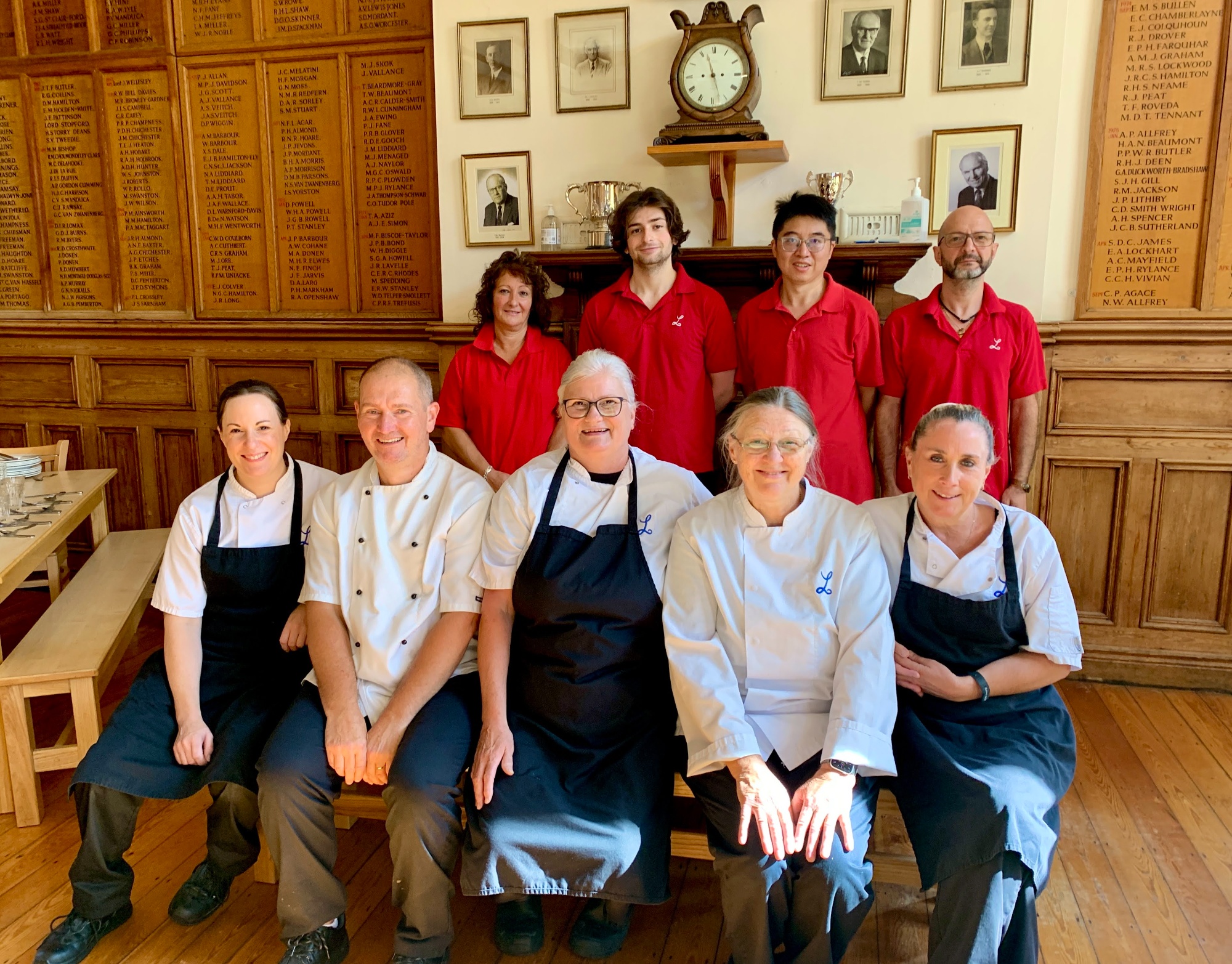 Front row: Steph, Steve, Karen, Gaye and Helen
Back row: Denise, Ross, Janson and Marius
Our school kitchen prides itself on the quality of its ingredients, with fresh fruit and vegetables delivered daily as well as meat from the local butcher. Food is freshly cooked and prepared in our own kitchen. We are a Nut Free school and cater for special diets that are allergen or medically related.
Meal times at Ludgrove are a social and lively time; good manners are paramount and the boys sit at the same table for a term, rotating around daily giving each boy a chance to serve, clear and sit next to staff.
Boys are offered a cooked breakfast every day in addition to cereal, toast and yoghurt. At lunchtime, we now offer alongside the main dish a very popular salad bar where there are always two protein choices, baked potatoes and a selection of salads. Tea is less formal, following more of a cafeteria style, with an emphasis on offering a substantial meal and in the winter there is always home made soup on offer.
Every evening, depending on their age, boys are also offered supper consisting of milk and biscuits, cereal and toast. We are continuing to add more variety to the menu and offering even more choice where possible. Our Catering Manager, Gaye Crowther and Head Chef, Steve Jones, together with Mrs Barber also hold a food committee meeting each term with representatives from each division and this gives all the boys a chance to express their likes and dislikes and make any requests. See the minutes from the meetings.
For further information see our Catering and Food Hygiene Policy.
Meat
Our fresh meat is supplied by McLleish & Sons, a Wokingham butcher who has looked after the school for many years. Brian and Steve supply us with freshly made meatballs, whole and jointed chickens, beef mince and stewing steak and joints of gammon, pork and beef and they make our 'Sunday sausages' especially for us. Slicing the seven huge joints of pork for Sunday lunch can take 2 ½ hours!
Fruit & vegetables
We have deliveries of seasonal fruit and vegetables 6 days per week from D & S Fletcher Greengrocers, who are based just outside Wokingham. Dean & Stuart are following in their grandfather's footsteps by continuing to supply the school, and visit Covent Garden daily to purchase our orders. Our consumption of fruit and vegetables has increased by 34% in the last year.
Milk, bread & eggs
All milk is full-fat and delivered daily by Pensworth - our average weekly consumption is 1,500 pints! Fletchers supply our bread, which is 50/50 wholemeal, and eggs - we consume an average of 600 eggs per week in freshly made cakes, puddings and scrambled and boiled eggs.
Dry store / frozen products
The majority of dry store, packaged and frozen supplies come from Bidfood, who deliver 2-3 times a week, for what is technically a massive home shop. Kentwood, a local family-run company comes to our aid with the smaller dry store requests.