Old Ludgrovian XI v The Headmaster's XI
Links in this section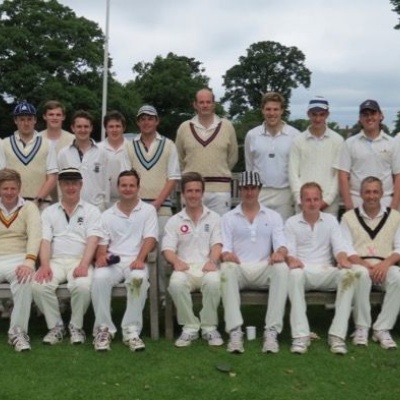 No sunshine but a fine afternoon heralded this year's Old Ludgrovian cricket day.Twenty old boys with Tom Buckner and a South African gapper Luke Burton were divided into two competitive teams with Tom captaining the Headmaster's side against the more senior Old Boys' XI skippered by Piers Alison.
The Old Boys batted first in aggressive fashion with Alex Robins leading the way at the top of the order. Impressive performances by James Rowland Clark, Charlie Jefferson and Freddy Drummond Brady and a fine knock by Alex Cornwallis insured a competitive total of 175 from 30 overs. Useful bowling performances by Logie Fitzwilliams, James Watt and Arthur Pickthorn prevented a larger run feast.
A sumptuous tea was taken between the innings before the Headmaster's XI set about the business of overhauling the total. James Watt smashed a quick fire 34 before he was well caught by James Rowland Clark. A solid 24 from Andrew Jennings combined with a hard hitting 40 by Hugo Zeal edged the HM's XI towards victory; however, some fine bowling by Charlie Jefferson and Chris Calvocoressi stemmed the tide. Slight panic was evident in the ranks of the Old Boys as two run outs added to the tension. 'Cometh the hour cometh the Man'! Logie Fitzwilliams hit some lusty blows to see the Headmaster's XI home in the final over with three balls to spare!
Thus a great game of cricket came to a most exciting end. Many thanks to all the Old Boys for playing and I hope we can repeat the event next summer when we shall try to raise four sides to celebrate Ludgrove's 125th anniversary.
Scores:
Old Boys XI 175 for 9 (Cornwallis 44, Jefferson 31, Robins 26, Rowland Clark 22, Drummond Brady 21, Watt 2 for 33, Pickthorn 2 for 28)
Headmaster's XI 176 for 6 ( Zeal 40, Watt 36, A. Jennings 24, Fitzwilliams 25, Jefferson 2 for 36)
HM's XI
Tom Buckner
Andrew Jennings
Harry Jennings
James Watt
Guy Smith Bingham
Geordie Sinclair
Hugo Zeal
Logie Fitzwilliams
Arthur Pickthorn
Matthew Buckner
Luke Burton
Old Boys XI
Piers Alison
Toby Hudson
Tom Annandale
Alex Robins
Freddy Drummond Brady
Charlie Jefferson
James Rowland Clark
Alex Smith Bingham
Alex Cornwallis
Chris Calvocoressi
Frank Sanderson