OL Golf Day 10th April 2022
Links in this section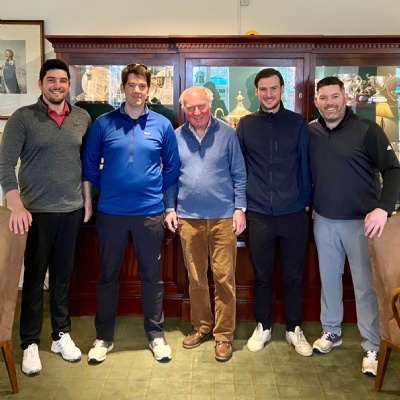 Twenty Eight enthusiastic OL golfers assembled at the Berkshire on Sunday 10th April to compete in the Ludgrovian Spring Meeting.
With a wide range of age and ability the players were divided into seven teams of four to play a Stableford competition with the best two scores at each hole counting. Four Mulligans were given to each team to help proceedings!
The Blue course was designated for our fun and a needle battle ensued. The course was in superb condition and the greens fast and true. In the Spring sunshine great enjoyment was had by all.
Two groups emerged at the top with the three Milne brothers with Alex Montgomerie claiming to top spot with 94 points. Turcan father and son with Sam Elworthy and Simon Barber came a close second with 92.
The teams were:
1. Sam Elworthy, Henry Turcan, Jake Turcan and Simon Barber.
2. Alex Andjel, Harry Meakin, Mike Bishop and Logie Fitzwilliams.
3. Charlie Farquhar, Simon de Zoete, Edward Lavelle and Christopher Elwes.
4. Charles Shaw, Reg Hoare, Edward Farquhar and Matthew Dorich.
5. Simon Beccle, Ed Buxton, Edward Hamilton Ely and Philip Mastriforte.
6. Adam de Zoete, Charles de Zoete, Charlie Rogers and Theo Rogers.
7. Alistair Milne, Stuart Milne, Freddie Milne and Alex Montgomerie.
We plan to repeat the day in April 2023, so please sign in when the time comes.
Gerald Barber