Div I @ Heron Down Farm
Links in this section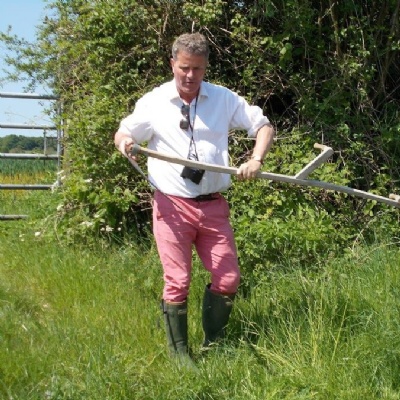 The day arrived and the sun duly arrived, as ordered by Mr Romanes for the trip to Heron Down Farm. Bedecked magnificently in blazer and pink trousers, he could have been going to Henley Regatta.
It was with some horror that he arrived in school to find Mrs Gore wearing jeans and t-shirt; she obviously had not got the memo about dressing smart. O tempora, o mores!
Div 1 had done their reading and were looking 'spifty-spoff' in school uniform and trainers. An hour and a bit saw us arrive safely just south of Highclere. RER gave a short talk on the things to be taken into account when setting about building a brand new house. Then the boys saw an album showing the construction over the course of 22 months. Now in dire need of waking up, they walked round half the farm, looking at HLS strips, spring barley and winter wheat crops, a bore hole and lamb pastures. Dehydration vied with boredom as possible causes of death.
After restorative Teissere lemon drinks, the boys were given a demonstration on scything and were shown quite how quick and quiet the process is compared with strimming; RER claimed that it was also slimming, but any glance at his girth quickly raised queries on this. A further walk revealed that in a hectare set aside for ground-nesting birds there were indeed lapwings (six pairs) and Charlie Sparke thinks he saw an elusive stone curlew. Down a drove, with cow parsley on both sides orchids were spotted, purple and small; the well-named common purple orchid.
Back for lunch, the boys were fed with home-made lamb lasagne (made by RER, not his wife) and then with Haagen Dazs salted caramel ice lollies. Education over, the afternoon was set aside for relaxation and games. Mrs Gore sensibly suggested to all sitting down in the sunshine by the pond; some (nameless) asked to play table tennis inside; others set about Kubb and Badminton.
The discovery of the day was pedicure by tadpole and evidence of this new and soon-to-be expensive treatment can be seen in the photographs of the trip. Once the dishwasher had finished its cycle, it was time to return to school. Time had flown. My thanks to Mrs Gore for her help and company. Thank you to the boys for their politeness!
RER
Further pictures of the boys' day are here.