A Week of Remembrance
Links in this section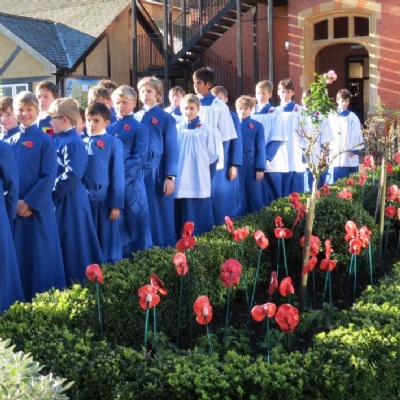 There has been a huge collaborative effort from the History, English and Art departments to illustrate to the boys the importance of remembrance and mark the centenary of the end of WWI.
In pottery, many boys and staff made poppies which have been displayed in the chapel gardens, in English lessons the boys have enjoyed studying famous war poetry and composing their own. The Sixes have enjoyed reading 'The Poppy Field' by Michael Morpurgo and the older boys have studied 'War Horse' and 'Journey's End' by R. C. Sheriff to empathise with the plight of soldiers in the First World War. There are some great visual displays all over the school, in Art the boys have discovered how the work of war artists helped us all understand the realities of war and the History department focused on the Great War, looking at the impact and resulting outcomes.

In addition, our school kitchens prepared a day of trench fare including trench stew, parkin cake, pea soup and corned beef pie. The week concluded with a moving chapel service including a great sermon from our own ex-serviceman Mr Mawson, followed by the reading of the Roll of Honour to the assembled school community and the laying of a wreath in the chapel.
Further pictures are here.