VIs at Windsor Castle 2019
Links in this section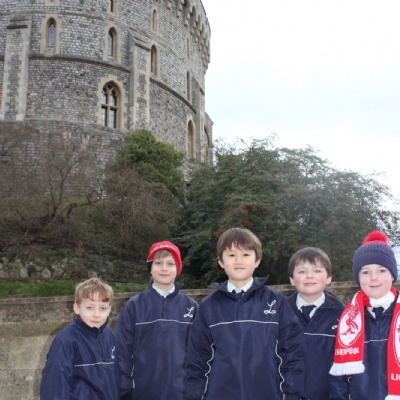 On a rather cold (but not too frosty) morning, we set off on our coach for our destination: Windsor Castle and St. George's Chapel.
We arrived in good time and walked through the grounds of the castle to St. George's Chapel. We learned about the burial places of the nine kings and queens entombed within the chapel and studied the areas dedicated to the Knights of the Garter. Our next activity was to draw the round tower and we all completed two or more drawings both large and small that will inspire the first stages of an art project back at school.
After a wonderful packed lunch (thank you to the kitchen team) we set off for the castle and state apartments. We learned about the fire of 1992 and which parts of the castle were in fact very newly built. The amount of gold leaf was astounding – and all applied by hand!
The weaponry and suits of armour on display were favourites with the boys and finally, we saw the recent royal wedding outfits worn by Their Royal Highnesses The Duke and Duchess of Sussex. After our return to school, we enjoyed our Tuesday grub and then a short break before afternoon lessons. As always, thank you to the staff accompanying the trip, Mrs Parnell, Miss Jones and Miss Cheater.
LNB
Further pictures of the trip are here.