Speeches Competition 2019
Links in this section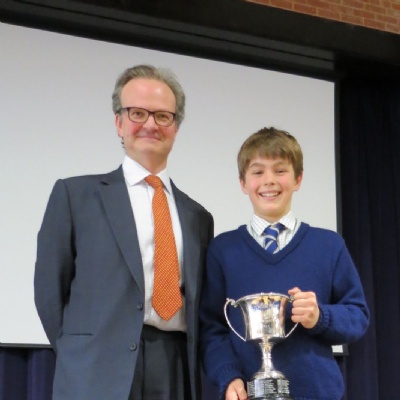 The speeches final is an important event in the Ludgrove calendar and the wide variety of topics ensured that an informative and entertaining morning was enjoyed by all.
The IVs' finalists were: Oscar Novis; Oscar Hawtin; Billy Woodcock; Orlando Mayhew. With the prize awarded to Billy Woodcock for his innovative speech on 'What Makes Britain Great'.
The IIIs' finalists were: Freddie Elworthy; Marcos Fortes-Whiddon; Billy Brooks; Caspar Garton; Ollie Beard. The Threes' prize was awarded to Freddie Elworthy for his informative speech on 'The Spanish Influenza'.
The IIs' finalists were: Theo Henman; Jolyon Challinor; Mikael Wari; with Jamie Jevons being awarded the prize for his confident speech on 'The Aztecs'.
The Is' finalists were: George Witty; Jasper Condon; Oscar Sutherland; Dominic Chapman; Henry Cornell; Matteo Compostella. After a difficult decision, Henry Cornell was awarded the speeches' cup for his superb talk on Idi Amin.
A special thank you to Mr Vickers QC for adjudicating and providing such positive and constructive feedback to all the finalists. Very well done to all of our finalists for maintaining such a superbly high standard of speeches this year.
KLG
Further pictures of the competition are here.