Prep School Fives Finalists
Links in this section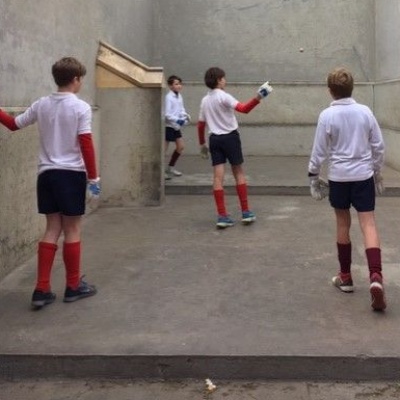 The Preparatory Schools Fives Championship 2019 was won by Berkhamsted in a well-fought final against Ludgrove.
Berkhamsted's pair included Sam Kaynama and Barney Baines. It was held at Eton College on Tuesday 19th March 2019 with 32 pairs entered. The first round surprise was Ludgrove 4 winning their group defeating Berkhamsted 2.
Indeed, Ludgrove and Summer Fields had three pairs each in the quarter-finals of the main draw. In the final, it was 9-9 in the first game and could have gone either way. Ludgrove 1 (Charlie Hope and Rory Acheson-Gray), seeded two, were putting plenty of pressure on the first seeds but Berkhamsted's consistent accuracy prevailed. The score was 12-9, 12-7.
The quarter-final competition was won by Ludgrove 4 who beat Summer Fields 2; the Jeremy Marston Plate was won by Berkhamsted 2 who beat Ludgrove 3; Berkhamsted 4 beat Cranleigh 1 in the final of the Roddy Forman Salver.
GJS-B
Many thanks to the parents who took & shared pictures, which are here.