Spring Concert hits the right notes
Links in this section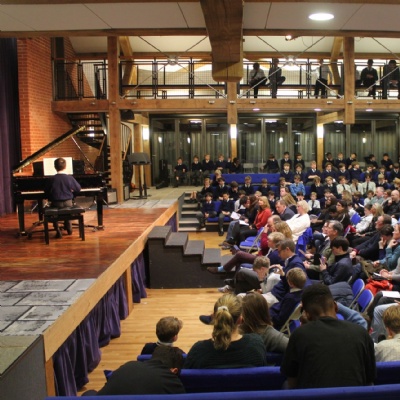 On Friday 13th March the whole school as well as a number of parents and friends gathered in the Theatre for our Spring Concert.
As ever, we were treated to a feast of musical talent and the standard of performance was particularly high this term. Whether seasoned pros or at the beginner stages of learning an instrument, all the boys involved showed real bravery and grit in standing up on stage and sharing with us what they had been working on in their individual music lessons.
As well as solo performances, our ensembles were also out in force, meaning that approximately half the school found themselves on stage at some point throughout the evening. New this year was the 'Strictly Come Dancing' group who entertained us with their moves.
Yet another stonking concert, for which the standard seems to get higher and higher. Huge thanks go to all the Visiting Music teachers for preparing the boys so well, and to the performers themselves for treating us to a fantastic evening of music!
Further photos from the event are here.