Poetry Recitation Competition Final
Links in this section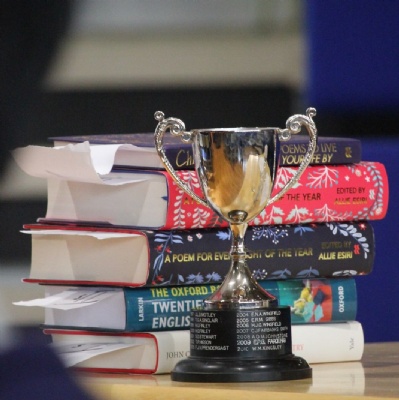 Ludgrove School enjoyed an afternoon of outstanding performances by the boys taking part in the finals of the Poetry Recitation competition.
Having already made it through several hotly contested rounds to get to the final, the 24 boys represented an incredibly high standard across all Year groups.
Guest judge, Dr Alex Latter, Head of English at Winchester College, had the hard job of choosing five age group winners. After some sterling performances, some of which were the boys' own compositions, and much deliberation, Dr Latter announced his winners: Tristan (VIs), Felix (IVs), Angus (IIIs), Orlando (IIs) and Thomas (Is) who was also awarded the Poetry Cup for his recitation of 'The ABC' by Spike Milligan.
Poetry Finalists included:
VIs
Edward - Us Two by A.A. Milne
Tristan - Ten Dancing Dinosaurs by John Foster
Raphael - Bed in Summer by Robert Louis Stevenson
Arthur - Excuses by Allan Ahlberg
IVs
Bear - Mr Bear by Steven Camden
Fergus - Smaller Ones Are Better by A.F. Harrold
Felix - Macavity by T.S. Eliot
IIIs
Max - Skeletons by Debbie Grenier
Xandi - George by Hilaire Belloc
Rory - The Fisherman by Abbie Farwell Brown
Henry - Winter by William Shakespeare
Angus - The True Meaning of Life by Pat Fleming
Oliver - My Teacher Wasn't Half As Bad As Yours Seems To Be by Roald Dahl
IIs
Leo - The Colour of My Dreams by Peter Dickson
Misha - Reality (own composition)
Jaey - A Tribute to Flanders (own composition)
Leo - Greedy Guts by Joshua Seagal
Orlando - The Great Realisation by Tom Roberts
Is
Marcos - It Couldn't Be Done by Edgar Guest
Theodore - Lockdown (own composition)
Ludovic - What Life Should Be by Pat Fleming
Jake - When This is Over by Laura Kelly Fennucci
Freddie - Still I Rise by Maya Angelou
Thomas - The ABC by Spike Milligan
The boys were all congratulated for having the courage to stand before their peers, for committing totally to their performances and for those who struggled, composed themselves and tried again. Well done to one and all.
For more photos of all the finalists please click here: https://photos.app.goo.gl/HMxJ7ejn6AnupR5r7