'Magic' Supper Night for Ludgrove's end of Michaelmas term
Links in this section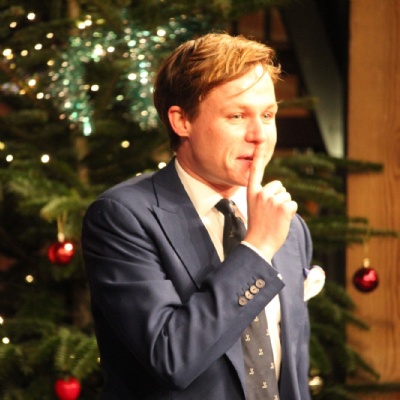 Supper Night for the end of 2020 had all the normal fun and frivolity of previous terms but with one extra special ingredient... a surprise performance by magician and Old Ludgrovian, Archie Manners.
The boys had been looking forward to the last night of term all week and they weren't disappointed. Scrumptious food, treats, fun and laughter before heading home the next day. Surely nothing could top that?
Little did the boys know that the roast turkey with all the trimmings and rich chocolate log was just the 'starter' before the main course of the evening.
Once plates were cleared and farewell speeches made, Mr Barber announced a surprise for the School's final night together: Archie Manners was putting on a private performance for the boys in the Theatre!
Excitement barely contained, the School enjoyed an evening of the most marvellous and mind boggling magic with Mr Manners proudly wearing his OL tie. He even got the opportunity to catch up with his former masters, Mr Buckner and Mr Loup. And the icing on the Christmas cake? Seeing his Matron, Miss Bridge, once again.
Supper Night and a surprise, top notch show that left them "oohing" and "ahhing" - the boys certainly ended their term on a high.
For more photos of Supper Night please click here https://photos.app.goo.gl/LNayBd5E9gQfbjdm6
For more photos of Archie Manners please click here https://photos.app.goo.gl/nBK2sscYQXepaH4C7