Bravo for the Lunchtime Recital by the IVs (Year 5)
Links in this section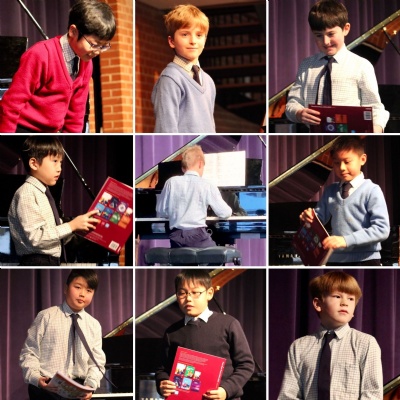 Ludgrove was treated to the first Informal Recital of the year, with a wide range of music enthusiastically performed by the IVs (Year 5) and watched by their peers.
With every from Beethoven to Elvis on the programme, there was something for everyone's musical taste.
The boys showed great talent and bravery to put themselves in the spotlight on the Theatre stage. Bravo to them and we look forward to seeing how they have inspired the VIs (Year 4) to practice hard for their upcoming recital.
Running order for the IVs Informal Recital:
Bobo (piano) - Ecossaise, Beethoven
Edward (piano) - March Hare, Brain Chapple
Charlie (singing) - Quem Pastores Laudavere, Trad
Jason (piano) - Intercity Stomp, Christopher Norton
]Nico (piano) - Teasing Song, Bartok
Toby (piano) - The Lost Bone, Adair
Dan Dan (piano) - Almost Like a Dream, Anon
Kantaro (piano) - Allouette, Trad French
Eric (piano) - Hound Dog, Elvis