IAPS National 6-aside at King's College, Taunton
Links in this section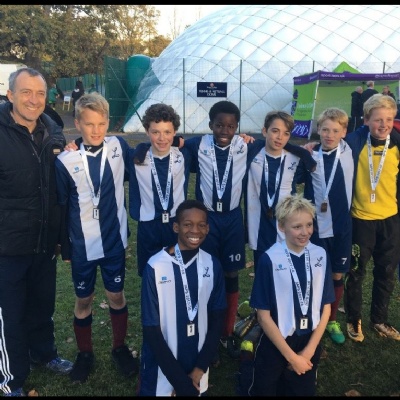 Having won the IAPS District U.13 6-a-side Tournament earlier in the season our 1st team football squad travelled to Taunton on Sunday 5th November.
It was a tremendous occasion where the boys played some outstanding football. We began the group stage steadily, drawing with New Beacon 0-0 , beating Twyford 2 – 0 but then losing to St Christopher's 0 – 1. This put us under some pressure to qualify and the boys responded in style stringing together 3 consecutive victories; Millfield 2-0, Chigwell 2-0 and the must win match v. Birchfield 5-0 (including a hat trick for Walton!). This put us top of the group to play Westbrook Hay, last year's winner in the semis. It was a competitive match where either team could have won but, sadly, the other team took their chance winning 1-0.
We won the subsequent 3rd v. 4th playoff and ended the day as 3rd best in the country. Mendel-Idowu and Elvin had been superb all day in attack and Orji, Morrissey and Evans –Freke, fantastic in defence only letting in 2 goals.
Well played everyone! TCB