The Oratory's Greyhound Cross Country Competition
Links in this section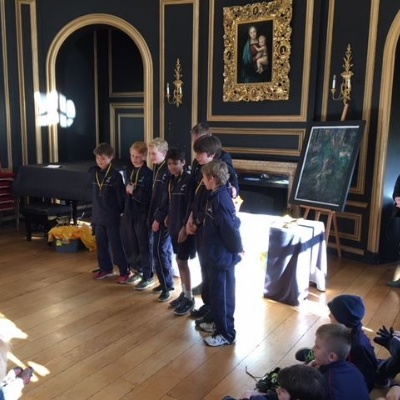 Ludgrove entered two teams, an U11 and U12, for this year's edition of the Greyhound Cross country competition at The Oratory school.
All the boys ran well over a long and hilly course that covered some majestic parts of the Oxfordshire countryside. The day started with some excitement as we arrived in a field someway from our destination to the voice of the satnav proudly announcing; "You have arrived at your destination!" A quick U-turn got us to The Oratory with approximately one minute to spare before the start of the U11 race.
Eddie S was not put off by our late arrival and won the race by a comfortable distance, beating boys from 12 other schools and some 80 competitors. The team finished fourth, just missing out on a bronze medal by a couple of points.
The U12 race was comfortably won by Abingdon Prep, whose competitors finished first, second, third and fourth. Our top finisher was Henry C in tenth and the team managed a fine bronze medal.
The boys then enjoyed a handsome feast of sausages, chips and beans. The journey home was less than straightforward as we were rerouted through Reading town! Thankfully, we reached base camp just in time for PR.
WSDA