Yarnton Pottery Trip
Links in this section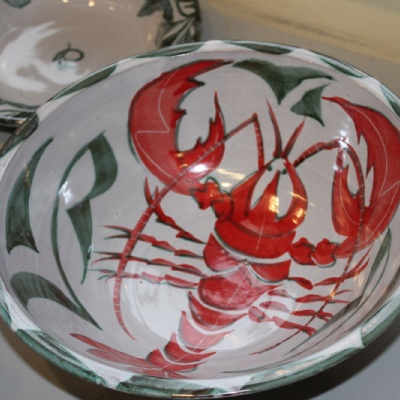 On Tuesday afternoon, a small group of extra potters was fortunate to be able to visit Andrew Hazelden at the Yarnton pottery. Andrew makes thrown pots from a custom mix of red clay, which he glazes in tin white before adding decoration inspired by ancient Persia.
Andrew explained how his gas kiln can be used to eliminate the oxygen inside, causing a 'reduction' firing and this is how he can create the iridescent and metallic surfaces we can't do with electric kilns at school. He showed a thrown lustre bowl, which is similar to one of his currently on display in the British Museum.
He started by throwing a pot on the wheel, imparting some new tips and tricks, and took the boys on a tour of his workspace. Next, he demonstrated his decoration tools and techniques, including a porcupine quill and a squirrel hairbrush!
We left with some of his clay, and a plan for him to collaborate in a summer workshop at school to decorate tiles for the pottery classroom in the new exploration centre, which he will fire for us in his kiln.
Further pictures of the boys' trip are here.