New cricket equipment for South African primary school
Links in this section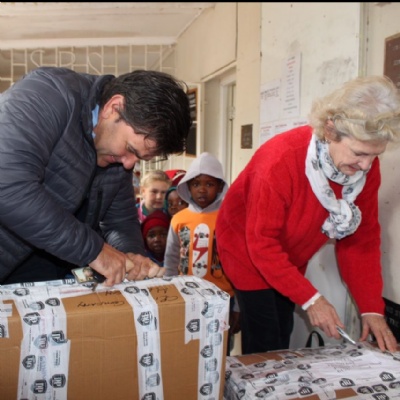 Donating cricket equipment to Shaw Park Primary School
This Summer I was extremely fortunate to visit the Eastern Cape of South Africa and went to see Shaw Park Primary School. Shaw Park is a small farm school that provides schooling to a wide cross-section of children in the Bathurst area and many of the students cannot afford much.
Using money raised by Ludgrove's cricket tour squad in April and from the charity Sport4Kids we were able to purchase cricket equipment for the school. There is enough to sustain the school for a number of years and includes balls, stumps, helmets, and different sizes of cricket kit. It was a real privilege to hand over the equipment to the headmistress and the students who kept on remarking that it felt like Christmas had arrived early!
We had been hosted by Shaw Park on the cricket tour and I loved having the opportunity to give back.
Thank you to all the boys who toured, and their parents who gave their time and money so generously to a very worthy cause. Thank you also to DP cricket who sold the kit at cost.
See images.

Mr G. French